Venue

Rheinische Friedrich-Wilhelms-Universität Bonn
The Tereno Conference 2014 will be held at the University of Bonn which was founded almost 200 years ago and is considered to be one of the world's leading research based Universities.
Copyright: Universität Bonn
The university, its faculties, centres and facilities form a "city within the city". And both of these cities are closely intertwined. Everywhere you go, you come across students and the academic world.
The most impressive site is undoubtedly the historic main building which will host the TERENO International Conference 2014 and is located in the city centre . It was originally the palatial residence of the prince electors and is now home to the arts and the theological faculties. Together with the adjacent Hofgarten park, this architectural landmark is an important ingredient of The University of Bonn's unmistakable charm.


How to get to the Conference Venue (PDF, 19 kB)

Citymap of Bonn: Conference Location and Hotels (PDF, 2 MB)
The City of Bonn
Bonn is a modern, lively and cosmopolitan city with a history of over 2.000 years. Beethoven's native city is situated on the banks of the Rhine and surrounded by lovely nature. The attractive historic centre with its extensive pedestrian precinct is a tempting place for a pleasant stroll, and about 30 museums offer entertainment and variation.
Bonn tends to leave a considerable impression on most people who visit the city. This line of thought is evidenced not least in the number of students and academics - from both Germany and abroad - who learn, teach or research here.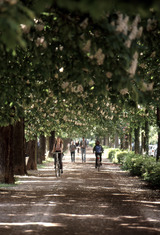 Copyright: Presseamt Bundesstadt Bonn
Those who visit Bonn are seduced by the charm, elegance and sophistication of the city. And with a population of very welcoming, open minded and kind spirited people, it makes a great impression on the visitor.
The most famous son of Bonn is Ludwig van Beethoven but the city gained true global recognition when Bonn became the home to the West German parliament and government after 1949. Today, Bonn is home to Deutsche Telekom and Deutsche Post as well as several United Nations institutions